Dr. Prashantham's New Year Greetings for the New Year 2013 (click here)
Dear Fellow Travelers and Friends,
I hope that you will enjoy the updated website with additional information, pictures, memories which may generate nostalgia for those who had been here and curiosity for others. As the year 2012 draws to a close, we have much to be thankful for in the form of blessings, success, resilience and hope in the lives of all dear alumni, in short and long courses, from all parts of India and overseas of the year 2012 and prior. We remember you and the meaningful times we shared.I hope the information will interest you in knowing more about courses planned for 2013, the staff that will help to facilitate and the possibilities for those who are interested to follow long or short course.
In the midst of tragedy, chaos, confusion, sorrow, brutality that we are witnessing and reading about in the news every day,we hope that we will practice and also work for enhancing people's capacity to listen, empathize, caringly challenge and actually apply those counselling skills in traditional and innovative ways. Thus, we can contribute to peace, non-violence, justice,specially gender justice, concern for the needy, promoting civic discipline in all sections of the society and humanization of social structures. Thereby we can contribute our mite towards prosperity and a higher quality of life for our fellow citizens, all citizens of the globe as well as ourselves.
In your journey forward through the next chapter of your life with all the excitement and restless-ness that characterize the transition points of the chapter, Meena, myself our young and energetic team wish each of you and your family membersthe very best in 2013 and pray for much good and lots of strength and wisdom to follow you throughout the new year.
Sincerely, Prashantham
Dr B. J. Prashantham, Director.
---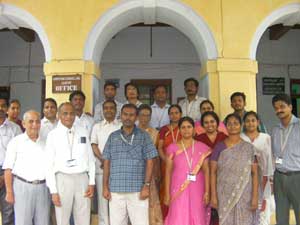 DISTINGUISHED PARTICIPANTS AND INTRODUCTION OF NEW STAFF (click here to read more)
:::::: COMING EVENTS :::::
Apply for 4 weeks Certificate in Psychological Counselling , the dates : may 14th to June 7th 2013
Inauguration Course No.144 (8 weeks course)

IRB- CMC

Short course Modern College - Pune

SBI Programme - Kerala

CFI - Chennai

Republic day

Short Course - Pune University

National Seminar - "Developing human potential: Issues & Challenges-Pune

Short Course - H.P.T Arts & R.Y.K Science College , Nasik

Board and Senate meetings in Mizoram

IRB- CMC

Short course - Dr. Babasaheb Ambedkar Marathwad University

CFI - Chennai

Convocation Course No.144 (8 weeks course)

Short Course: New Arts Commerce & Science College,Amhmednagar

In the second half of the year we are planning a national conference on Counselling as Tool for Non violent Social Change. Details will be put up in Shortly.




4 Week Course.
8 Week Course 2013.